Basement Waterproofing Tampa
Have you ever had a basement flooding issue? It's a problem that no homeowner wants to deal with, but unfortunately, it can happen.
Foundation Repair Tampa offers an effective and reliable waterproofing service for basements in the area. With our services, you won't have to worry about any future flooding problems or water damage.
Our team of experts will inspect your home thoroughly and provide you with a comprehensive solution tailored to your needs. We use only top-of-the-line products and materials so you'll get the most out of your investment.
Our customer satisfaction guarantee ensures that we'll do whatever it takes to make sure your basement stays dry and safe from water damage – now and in the long term!
FREE INSTANT QUOTE!
​

*Get a FAST response*
Assessing Your Basement's Waterproofing Needs
It's important to assess your basement's waterproofing needs before taking any further steps. If you're unsure, consulting a foundation repair specialist who will know the best course of action for your particular situation can be helpful.
There are many signs that suggest there may be an issue with water infiltration in your basement such as cracks or efflorescence on walls and floors, dampness on surfaces, mold growth, musty odors, peeling paint due to moisture buildup, bowing walls, leaking around windows and doors, water seepage through the floor or walls and pooling water near the foundation.
The next step is identifying sources of potential water damage which could lead to more serious issues if left unchecked. It's essential to identify what type of water problem you have so that an appropriate solution can be implemented.
Knowing where the source of the leak is coming from helps determine how best to stop it from occurring again in the future.
Identifying Sources Of Potential Water Damage
Water damage can occur due to a variety of sources.
Common causes of water infiltration include hydrostatic pressure, cracks in the foundation walls or floors, and inadequate drainage systems.
Other potential problems are leaky window wells or door frames, rainwater runoff from gutters that don't channel properly away from the house, and improper slope around the home's perimeter.
It is important to identify any and all sources of water entering your basement before proceeding with waterproofing solutions.
Our team has extensive experience assessing basements for potential issues and ensuring these areas are properly corrected so you can have peace of mind when protecting your property against future floods.
Benefits Of Hiring A Professional
When it comes to foundation repair, finding the right solutions is essential. That's why calling in a professional like Foundation Repair Tampa can be so beneficial.
Their experienced team of contractors are familiar with all types of problems and have the knowledge to ensure everything is done correctly. They'll also provide personalized service tailored to your individual needs.
From inspecting for potential damage and recommending necessary repairs, to assessing existing issues and taking preventative measures, a professional can help you save time, money and hassle down the road.
Not only will they properly resolve current issues but they can identify potential ones before they become costly failures. In addition, their expertise ensures that any work completed meets local codes and standards – providing peace of mind that safety won't be compromised.
All these services make hiring a professional an excellent value when compared to doing the job yourself or using inexperienced workers who may not know what they're doing.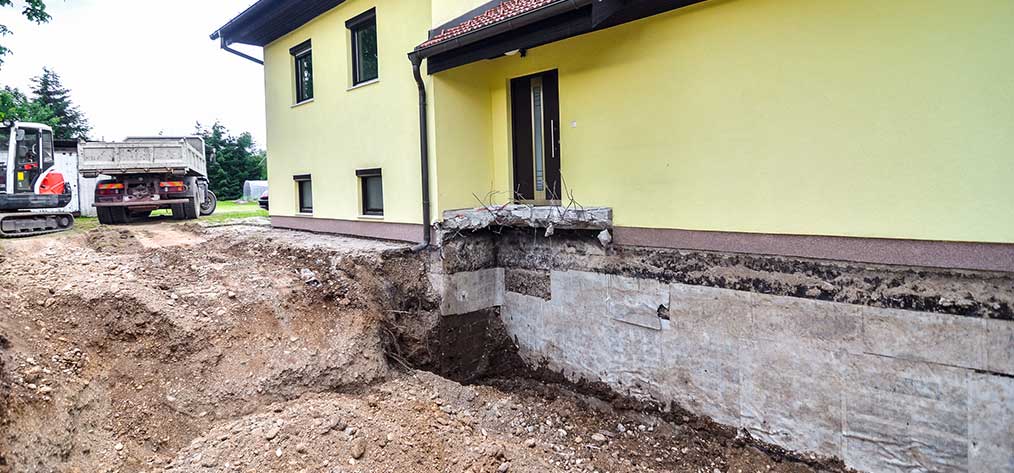 Implementing Effective Waterproofing Solutions
At Foundation Repair Tampa, we understand that implementing effective waterproofing solutions is essential for a safe and healthy home. That's why our team of experienced professionals always strive to provide the most reliable services available.
We use only the highest quality materials to ensure lasting results and take extra care when working around sensitive areas like electrical wiring or water pipes. Our certified technicians can diagnose any current issues with your property's moisture levels and apply an appropriate waterproofing solution tailored specifically to your needs.
We will also advise you on how best to protect your property from future damage caused by moisture buildup. It may involve taking preventive measures such as installing drainage systems or raising grading around the foundation walls if necessary.
Of course, regular inspections are critical in maintaining the integrity of your waterproofing system over time. With our professional help, you can rest assured that your basement is well-protected against water infiltration now and in the long run.
Inspecting And Maintaining Your Waterproofing System
It's important to examine your basement waterproofing system periodically. Regular inspections can help identify any potential issues that may arise, and provide the opportunity to address them before they become severe. After all, a little preventative maintenance now can save you from extensive damage in the future!
That being said, it is best to contact a professional to inspect and maintain your basement waterproofing system properly. Professionals are trained and experienced in this type of work, so they know what signs to look for when inspecting your home's foundation.
Going with a reputable company like Foundation Repair Tampa ensures that you get quality service at an affordable cost. With their expertise on hand, they will be able to assess any current or potential problems and provide solutions quickly and effectively.
Ready to talk about your next project?